Sushi making was all the rave when this particular Japanese dish first became popular, and it is no different today as more and more Sushi stores and craft shops sprout on every corner. More and more people want to learn how to do it on their own as well, and the popularity of the best Sushi rolls for beginners is a sure sign of that.
Traditional Sushi making is deeply rooted in Japanese culture, and while you may not be able to duplicate the exact methods that Sushi masters use, you can easily make Sushi wherever you are with some help from tools that you can buy at a novelty shop or a specialty store.
Three of the Best Sushi Rollers
Among the tools used to make Sushi, a Sushi roller is one of the most important as it lets you form your Sushi into the perfect rolls that they should be. Here are three of the best Sushi rolls for beginners that are available on the market.
1. JapanBargain S-1574, Sushi Roller Bamboo Mat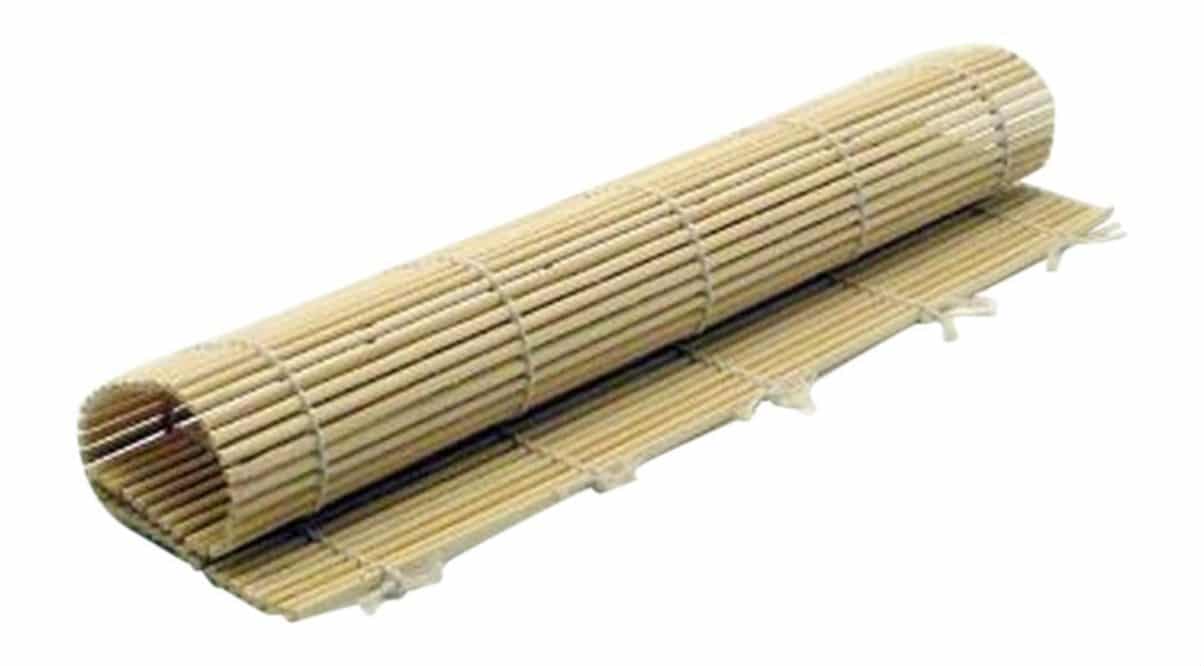 The JapanBargain S-1574, Sushi Roller Bamboo Mat weighs about 1.6 ounces and measures 9.5 inches x 9.5 inches x 0.1 inches. This Sushi mat is made of 100% natural bamboo and is completely reusable. However, it is much safer to handwash this item rather than place it in a dishwasher as the strands might break and cause damage.
Pros
This is a bamboo mat made of high-quality materials that ensure it will last for a long time, even with constant use.
Rolling Sushi rolls with this mat is easy, and you can even press it comfortably without having to worry about breaking the nori lining or squeezing the fillings out.
You can use the JapanBargain S-1574 bamboo for other things aside from rolling Sushi rolls, like squeezing grated vegetables dry for salads and carb substitute.
Cons
The JapanBargain S-1574 is a little smaller than expected, which means you have to make more rolls even if you're just going to feed a couple of your friends.
Once wet, this bamboo mat tends to produce splinters, and it feels flimsy after a while.
The JapanBargain S-1574 bamboo mat can be hard to wash, especially when the rice has dried and stuck to the bamboo. A way to get around this problem though is to place a film of cling wrap in between the bamboo and the seaweed or rice. This keeps the rice off and your mat clean.
2. POAO Sushi Roller Kit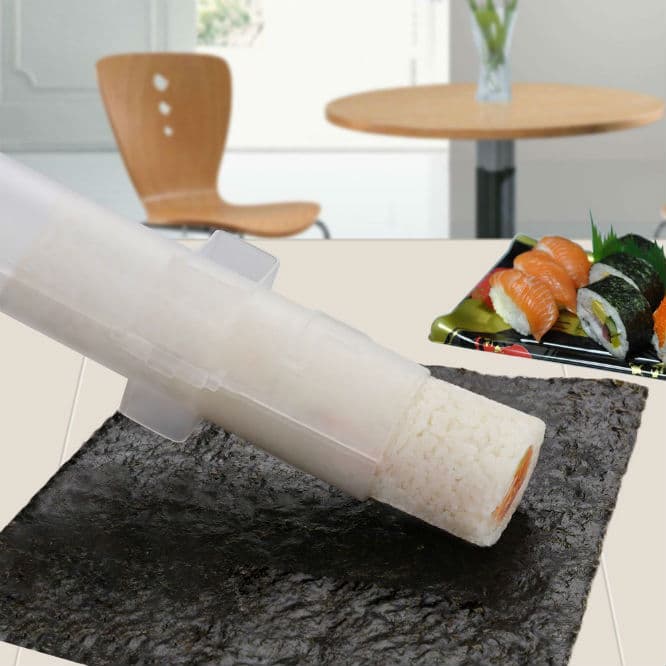 The POAO Sushi Roller Kit or the "Sushi Bazooka" is a portable Sushi maker that molds rice and Sushi rolls for you. Instead of you rolling rice and stuffing around to get the perfect roll, this device lets you layer rice and stuffing and then molds them into the perfect circular roll that you push out on one end.
This kitchen device measures 11.81 inches x 1.77 inches x 2.76 inches and weighs about seven ounces. This kit is made of food-grade plastic. The roller also comes with easy-to-follow instructions.
Pros
The POAO Sushi Roller Kit is easy to use and makes Sushi making faster.
This easy-to-use roller allows you to play around with the fillings, from traditional shrimp and fish to a more modern SPAM and mango.
The Sushi Bazooka makes Sushi rolls faster than a traditional bamboo mat; the shape is more consistent as well.
This Sushi roller kit makes for a good party companion as it gives birth to more Sushi rolls faster, and it is quite interesting enough to become a conversation piece on its own.
Cons
This Sushi roller does mold the rice, but it does take a little bit more than needed to get a more compressed and stable Sushi roll.
Sushi rolls that are "ejected" from the Sushi Bazooka tend to break apart easily, especially if it is not compressed enough.
3. Easy Sushi 3.5 cm Roller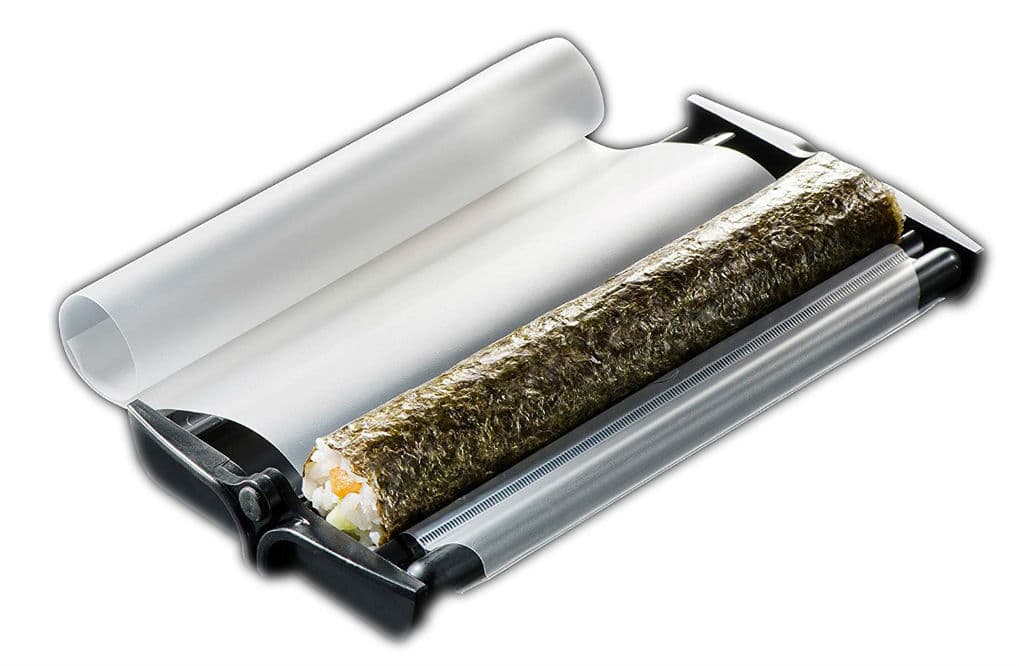 The Easy Sushi 3.5 cm Roller is made of food-grade plastic and is dishwasher-safe. It comes with one roller and a traction sheet that can be replaced as needed. The roller itself measures 9.5 inches in length and works with different kinds of wraps, from plastic to rice paper and seaweed.
The Easy Sushi roller can make a party-sized Sushi platter in a matter of minutes, and clean-up is a breeze. The product itself is made in France, and it creates professional looking rolls.
Pros
Sushi rolls created with the Easy Sushi roller always come out looking perfect, and its visual appeal adds to the fresh flavor that each roll packs in.
This Sushi roller is easy to use and is completely mess-free. Even washing it is a breeze.
The Sushi rolls that come out of the Easy Sushi are packed tight with freshness. The rolls are squeezed in as well, making the fillings pop out in every bite, just like how traditional Sushi would.
Cons
The Easy Sushi roller works best with the rice rolled in another layer, like seaweed or rice paper but if you would just be using rice and then the filling, you are in for a messy afternoon. It is recommended that you use a sheet of cling film to put some distance between the roller and the rice.
The Easy Sushi roller rolls Sushi about an inch or so in diameter which is very small especially for California Maki and the likes. This may be good for Sushi recipes that require very few ingredients, but it is not suited for those that require more.
The Best Sushi Rolls for Beginners
The JapanBargain S-1574, Sushi Roller Bamboo Mat is one of the best Sushi rollers on the market today. The other two Sushi rollers in the list have incredible features as well, and they do save you some time when it comes to the number of Sushi rolls produced per minute.
However, nothing beats being able to compress your rice rolls to the size that you want, using whatever fillings you can think of. You can adjust the size of the Sushi roll as necessary, and you can be creative as well with what filling you use. It might take some more effort to make the perfect rolls, but it is satisfying to know that you can do it.
Rolling Sushi the traditional way also lets you connect with what you are doing, filling in the cracks and crevices with love and care as you roll along. As with any food that we have painstakingly prepared for our friends and loved ones, it always brings a warm and tingly feeling knowing that they will appreciate our effort and that they would enjoy what we have prepared for them.