If you are an authentic sushi chef or a sushi enthusiast with chef aspirations, then you ought to consider investing in a quality knife. You might think that any knife could do the job, but that is simply not true. Some knives are designed to cut bread, steaks, and butter only. So, if you want to perfect your art, or prepare your favorite dish with ease and finesse, then you ought to consider getting the best sushi knife.
The price is always a consideration when choosing among several options. While this may be a delineating factor, it should not be the only reason you decided to buy something.
You should choose to buy a sushi knife because of make, design, durability, and ease of use. The last thing you will want to do is to buy a sushi knife tomorrow and then go in search of another a few days later. Hence, the purpose of this article is to help you find the best sushi knife for your kitchen.
Best Sushi Knife: Our Top Choices
We have selected three sushi knives that we believe have good quality and you can consider purchasing once you have decided to buy a special knife for your sushi making activities.
Soufull Professional Sashimi Sushi Knife
This professional sushi knife by Soufull is a razor sharp knife that has a blade that is made of Japanese stainless steel material that has a surgical grade. It has a gray leather wooden handle and comes sheathed in a gift box that is double riveted and durable. The product's length is 12.8 inches, width is 1.2inches, height is 0.1 inches, and weight is less than one pound.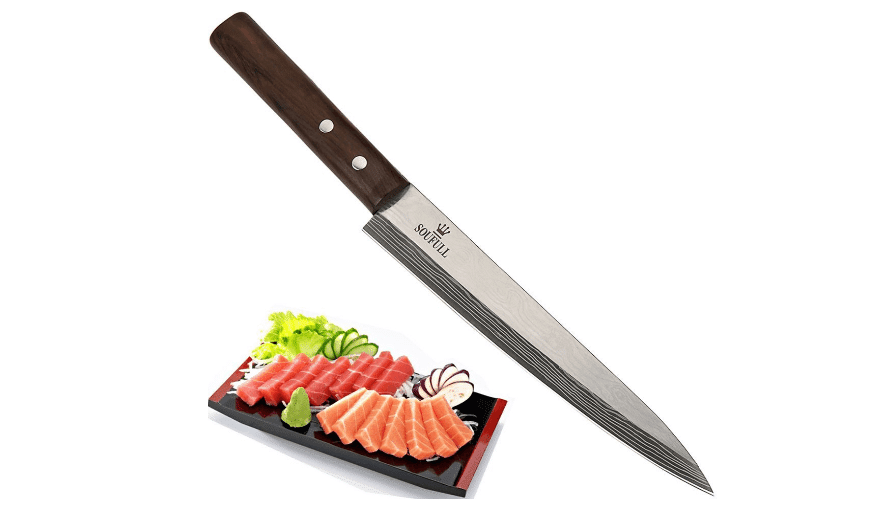 Pros:
Made of high-quality material: It is two times harder than comparable knives, and the handle has been designed with durability and balance in mind.
Sharp blade: The knife's blade is sharp enough to slice through your raw fish with no pressure. It also has really good edge retention, so you don't have to worry much about losing control of your knife when slicing.
Maintains the quality of fish: This product is sharp enough which makes it possible to retain the form of the fish even if you cut it too thinly. Likewise, since it is specifically designed for slicing sashimi, the taste of the fish will not be altered.
Good customer relations: Product comes with a service card and there is a customer support department that you can contact.
Effortless handling: This product is easy to handle because its low weight which makes it possible for you to feel less tired after slicing a lot of fish.
Cons:
Single-edged knife: This design is good for slicing fish, but it is not suitable for cutting or chopping.
Blade length is quite short: You might be slightly disappointed with this knife as the steel does not go all to way to the bottom of the knife's handle. This may cause some of you to experience some difficulty when attempting to balance the knife
Loses its sharpness: The knife is sharp initially, but after repeated use, the blade is not as sharp as you would want it to be and this can be an issue for some.
Lucky Cook Sashimi Sushi Knife
Its manufacturer has described this 10-inch knife as being the perfect tool to use if you want to fillet or slice fish or cut sushi and sashimi. The Lucky Cook Sashimi Sushi Knife has a stainless steel blade but maintains a traditional wooden handle that gives it an authentic Japanese-style knife look. Additionally, it has been made with strict compliance to the standards of Japanese.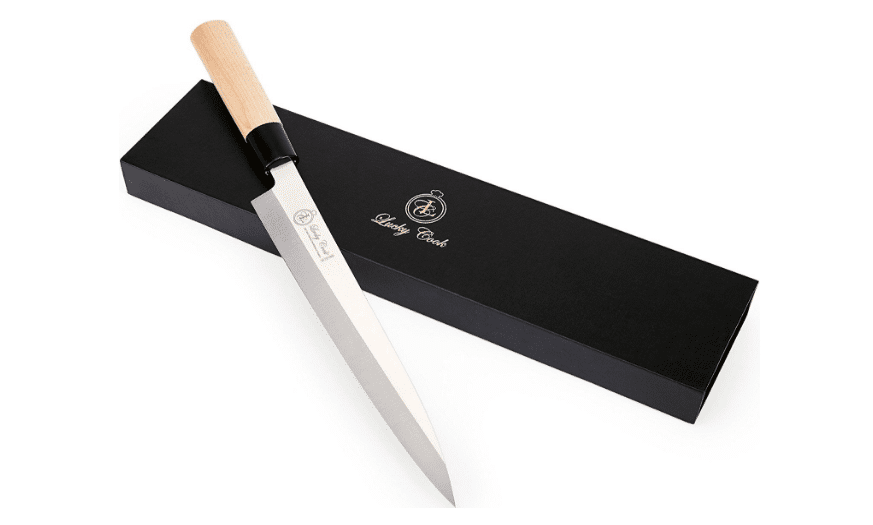 Pros:
Multipurpose knife: It filets, cuts, and slices fish without damaging its meat making it possible for you to serve your family, friends, or guests with dishes that have a great presentation.
Quick process: The design of the knife's blade which is long, asymmetric and narrow allows you to complete sushi-related processes with fewer movements and effort.
Meets Japanese standards: Japanese require high-quality knives when preparing sushi and this knife fits the bill of what is acceptable. Such means that it has a sharp blade, a good balance and a wooden handle that gives the user a good grip on the tool.
Cons:
Not a full tang knife: This knife does not have handled pieces on its blade because the manufacturer focused on meeting the traditional Japanese designs.
Thick blade: For some professional chefs, the blade may be a little thicker than what you are used to getting in high-end knives which requires a little attention to handling as too much pressure can damage the fish.
Dalstrong Yanagiba Sushi Knife
The Dalstrong Yanagiba Sushi Knife is nine inches in length and has a Japanese inscription on the 3.5mm-thick, long, and narrow blade. While the other knives come with gift boxes, this premium knife comes sheathed. The black handle that has a D shape is hand polished and made from Spanish pakkawood and laminated for a perfect grip. Added to the look of the knife is a hint or brass and copper.
Pros:
Produces high-quality slices: The narrow and sharp blade is perfect for slicing fish as thin as paper without damaging the meat. Likewise, since the blade is tapered, the slices will be precise.
Ease of use: The thickness of the blade and its tapered design allows you to separate the sliced piece away from the large piece of fish without hassles.
Good blade: The blade was ice tempered, so it has good edge retention and is resistant to stain and corrosion.
Comes with accessories: This knife comes packed with a polishing cloth, a sheath, and a gift box.
Cons:
Not suitable for left-handers: The knife's handle is D shaped making the knife more suitable for right-handed people.
Thick blade: The blade might not work for people who are used to putting too much pressure when working.
Final Conclusion
Choosing the best knife for your sushi will be easier than getting the perfect one. As you can see, each knife has it's unique selling point, but each also has its drawbacks. Thus, when your concern is budget, the Soufull knife will be the best option.
On the other hand, when it comes to authenticity, you should opt for Luck Cook. If the price is not a deciding factor and you are for elegance, then you can get yourself the Dalstrong Knife.