The Ultimate Dragon Roll Recipe
It's no secret that I love sushi, but this roll might just be one of my favorite creations to date. This Dragon Roll is similar to an Unagi Roll, but way better. This roll is topped with BBQ eel and loaded to perfection with tempura fried shrimp, avocado, cucumber, and tobiko. The fresh flavors of the vegetables balance out the richness of the tempura and the savory flavor bomb of the BBQ eel for the ultimate combination.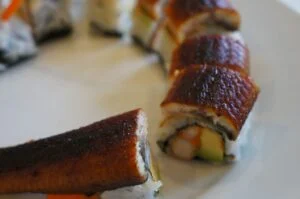 Not only is this Dragon Roll delicious, but it's filled with health benefits that you can feel great about. Let's break down each ingredient and see the benefits each one brings to the table:
Eel

is loaded with omega-3 fatty acids and packed with beneficial minerals
Shrimp

is a rich source of protein and is high in vitamins and minerals
Avocado

is high in heart-healthy fats and fiber
Cucumber

promotes hydration and is high in antioxidants
Tobiko

is high in healthy fats that protect the heart and liver
With all the incredible health benefits provided by this fresh and flavorful Dragon Roll, you can enjoy with confidence knowing that you're providing your body with vital nutrients.
This roll may seem daunting because of the different components, but don't stress! The steps may take some time, but they aren't challenging. Make sure you allow plenty of time for prep so you don't rush anything and you'll do great. Whether you're hosting a sushi party or making dinner for one, this mouthwatering Dragon Roll is sure to impress.
Did you say Eel?
Yes. BBQed sweet water eel. If you haven't tried it yet please do. It would most likely arrive in a colorful packaging like this one. It is already cooked, and probably frozen or chilled. You only need to heat it up at home, but for the best result oven grill it for a few minutes.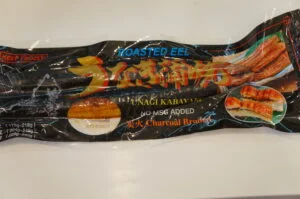 Decoration
You can get quite creative with this roll. Next time I make it there's going to be much more decoration going on. But for this one I simply used carrot sticks for Antennas and some Sriracha sauce for eyes. I could use Salmon Roe instead, and I've seen even crazier uses for eyes before. I'd really like to make one blowing fire made of spicy mayo. Next time.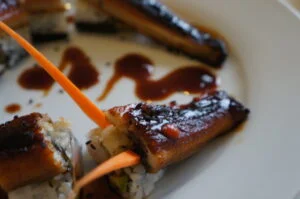 The tempura
For this recipe I used tempura mix, but you can easily make tempura 'from scratch' with flower, water and a beaten egg. I'll post a recipe for that as well as soon as I can.
One more thing
It's a marathon. Dragon roll is a more complicated roll to make due to the heavy prep. Grilling the eel and frying the shrimp takes  a bit of extra time so do plan ahead.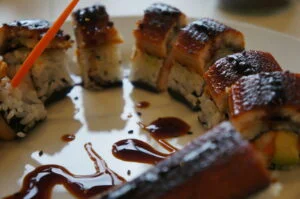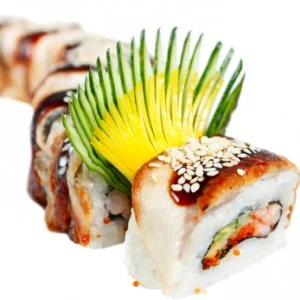 🐉 Dragon roll
It is basically an Unagi roll with better PR. Way better PR. And taste.
The Dragon roll has  tempura fried shrimp and Avocado inside and BBQ eel on top. You can also add cucumber and tobiko inside like I did here.
Ingredients
2

cups

Sushi rice

3

Nori sheets

18

medium size

Shrimp

½

cup

tempura

1

Avocado

1

Cucumber

50

gr

Tobiko

3

BBQed Eel
Instructions
Oven grill the BBQ eel for about 5 minutes

Mix ½ cup tempura mix and ½ cup cold water to make tempura batter

Deep fry until golden, leave to cool on paper towel

Cut a nori sheet in half, and cover with sushi rice

Flip the nori over, and place the shrimp and avocado across the nori

Roll it as you would an inside out sushi roll

Place the eel on the roll. Cover with plastic tape and tighten to the roll using the sushi mat

Cut through the plastic tape to 8 pieces. Transfer to serving plate.

Decorate with carrot sticks for antennas and red sauce for eyes. Serve with Unagi sauce