Why would you make smoked salmon nigiri?
"My friend says 'real sushi' has to be made from raw fish. Is that so"? – Quick answer, not by a long shot. Many traditional sushi dishes may contain no raw fish at all, in some the main ingredient could be cucumber, kampio or an omelette. With that said, smoked salmon would probably not be a traditional sushi chef choice.
There are many reasons why you may choose to make your nigiri sushi with smoked salmon instead of raw. Smoked salmon is significantly cheaper, easier to come across (you can probably find it in your neighbourhood super-market). It is easier to store before use (in terms of expiration) and easier to prepare (as usually comes pretty processed). In short, it is a cheaper and easier way to make salmon nigiri.
What is required?
You will need:
Optional:
A nori sheet
Wasabi paste
Ikura (salmon roe)

Choosing right
This might seem insignificant at first, but the best looking (and if you ask me, best tasting) smoked salmon you can pick up at the store is that with nice thick white fat lines. You might not have the choice, but if you do – get the fat lined salmon. It might cost a bit more, but should be worth the difference.
Form the rice
Begin by taking a bit of rice you have prepared in advance, and using both index fingers and thumbs form it into finger like shape as shown below.
Exactly how much rice to use is really up to you. Ideally, you should be able to consume the whole nigiri in one bite – keep it mind when choosing your quantities.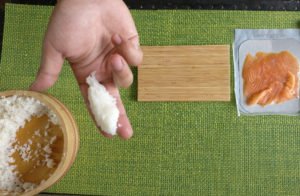 Put it together
It's go time! Using a sharp knife, cut a piece of the smoked salmon, large enough to cover the top of the rice finger you formed a minute ago. Pay attention to the fat lines direction.Your nigiri will looks best if the lines are diagonal to the rice.
If you like wasabi in your sushi, this would be a great time to smear a tiny bit of wasabi on the back of the smoked salmon just before placing it on top of the rice.
Now, place salmon on top of the rice. Use two fingers to support the rice base while your other hand's thumb and finger index stretch the salmon on to the rice so  it is tightly placed on it.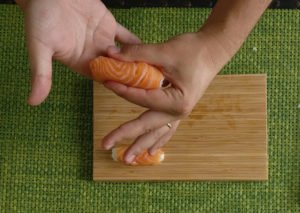 Let's recap
You will need to form the rice into a finger shape, cut out a large enough to cover its top and lastly stretch the salmon on top of the rice.
In terms of the order, if you are making nigiri for the first time you might want to  do all steps in this order so that you don't make cut all the salmon the wrong shape and size.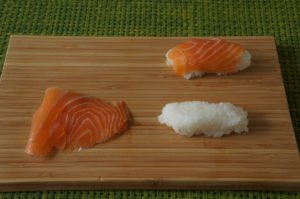 Finish
If you paid attention to the list of ingredients you noticed nori was an optional. You would sometimes use a thin strip of nori to strap the nori strip around the topping so that it doesn't fall off the nigiri. This is mainly useful if you used plenty and/or varied topping – or if for any other reason the topping doesn't hold well.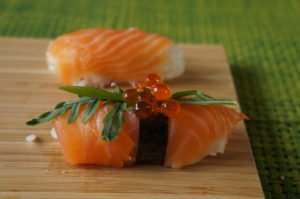 You can get creative with topping your nigiri. In the example below, you can see rocket leaf strapped to the smoked salmon nigiri, topped with a bit of salmon roe.