Oshinko
Oshinko (also "Takuan") is a Japanese pickled radish. It has a strong flavor, and so can serve as a single filling in a small (hoso) maki roll, or as an addition to other fillings in Foto-maki, or Ura-maki rolls. Since pickled, the Oshinko can be stored for long periods in the fridge, even after opening – so it's a relatively more convenient to handle than most sushi ingredients. Not only for sushi by the way, Oshinko works well in salads and other cold dishes.
How does it look like in a roll?
Like this: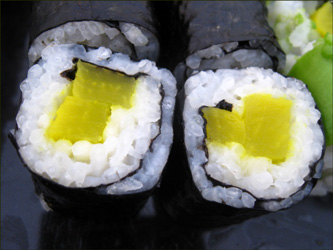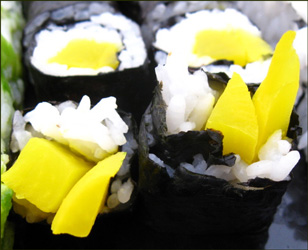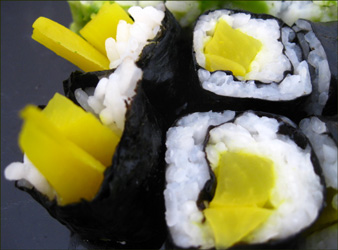 Where can I get Oshinko?
Oshinko, as most sushi ingredients, can be purchased at Asian markets and food stores. Can also be found in online stores – see links below for Amazon: