What do I mean by salmon maki?
Salmon maki is a thin sushi roll with a strip of sushi grade raw salmon in the center, rolled with sushi rice and wrapped with a seaweed sheet called nori. That's it.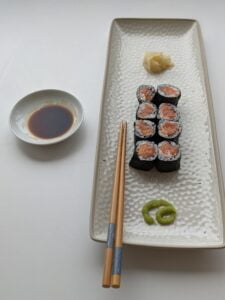 Are you a half nori kind of person?
Maki sushi can be rolled on either a full sheet of nori, or half a sheet. Using a half nori means you can only have one filling to the roll, and not use too much of it. In addition make sure you don't use too much rice, and half a nori should be just exactly enough to make a perfect roll. That requires some planning, precision and care. If you are having trouble closing the roll, consider using less filling and rice, and compressing it more as you roll. Alternatively, you can always turn to the easier version made with a full sheet of nori.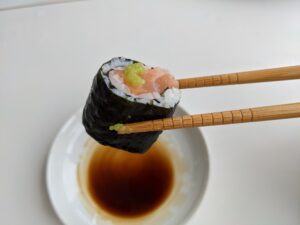 Making ends meet
Some folks cut off the very end of the roll from both sides and toss it away. I was actually asked to do that in a restaurant where I worked as a sushi man many years ago. The reason to do so is aesthetics – it help displaying a beautifully cut sushi roll. Personally I object to intentionally throwing away perfectly good food, even if it is just the end cut. AS you can see below, the end pieces looks the most tempting even if not evenly cut.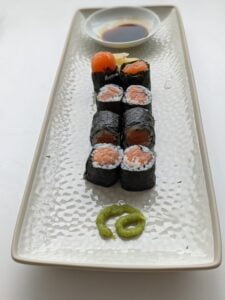 Plato
Got a brand new plate for this recipe – It's a "Gordon Ramsay Maze Grill White Hammer", and you can get it right here if you fancy.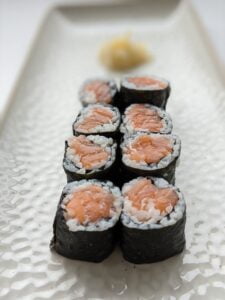 Rice first
Before making this recipe you will need to prepare some sushi rice. We have a detailed guide on making sushi rice right there.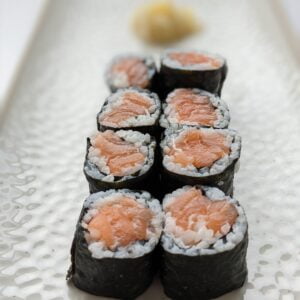 Salmon maki
This Salmon maki (Hosomaki technically) is the first sushi you want to try and make. It's a timeless classic. Let's start.
Ingredients
4

sheets

nori

½

lb

Raw salmon

Sushi grade
Rice
1⅓

cup

sushi rice

1½

cup

water

1

tbsp

sugar

1

tsp

salt
Instructions
Prepare sushi rice, and season.

Split nori sheet in half and place on the bamboo mat. Make sure the rough side of the nori is facing up.

Wet your hands with 'Vinegar splashed water', and grab a handful of rice. Spread the rice evenly across the nori.

Place a thick strip of sushi grade salmon at the edge of the nori

Roll the sushi, making sure to press thoroughly with every step

Cut the roll in half. Then each half to quarters and eights.

Place on a nice plate, with pickled ginger (gari), wasabi paste, and a small saucer of soy sauce
Nutrition
Calories:
365
kcal
Carbohydrates:
55
g
Protein:
17
g
Fat:
8
g
Saturated Fat:
2
g
Cholesterol:
28
mg
Sodium:
1034
mg
Potassium:
57
mg
Fiber:
2
g
Sugar:
4
g
Vitamin A:
135
IU
Vitamin C:
1
mg
Calcium:
9
mg
Iron:
1
mg