Salmon Maki, also known as Makizushi, is a beloved classic that has been enjoyed by sushi lovers for generations. It's a perfect introduction to sushi for those new to the cuisine, while also being a go-to choice for seasoned eaters who appreciate the simplicity and subtle flavors of this classic dish.
In this recipe, we'll show you how to make Salmon Maki rolls at home, step-by-step. So, let's get rolling and create some delicious sushi!
What do I mean by salmon maki?
Salmon maki is the most iconic sushi roll that can be found served in a large variety of settings. The popularity and simplicity of salmon maki make it a roll that is readily available in the sushi section of grocery stores and even in the most expensive omakase sushi restaurants. Salmon maki is a thin sushi roll with a strip of sushi-grade raw salmon, rolled in sushi rice and wrapped in a nori seaweed sheet. Salmon maki is by no means boring or pretentious when it comes to sushi rolls. But instead, this sushi classic is creamy, cohesive, and the perfect summertime meal.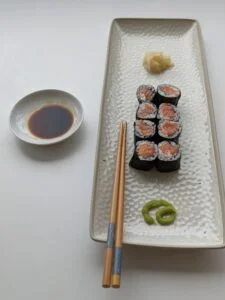 Should You Use a Half or a Full Sheet of Nori?
You can make maki sushi by rolling either a full sheet of nori or half of a sheet. If you use half, you need to be sure to add minimal amounts of sushi rice so that the roll doesn't burst. You also only have space to add one filling to the roll, and you must not add too much of it so that it can fit within half a sheet of seaweed. Making half nori requires planning, precision, and delicate wrapping. It may be best for beginners to use a full sheet of nori since there will be more space to add as much filling as you would like.
If you want to make maki using half a sheet of nori, you can fold the nori in half, press down on the perferated lines, and gently tear the nori so that there are two halves.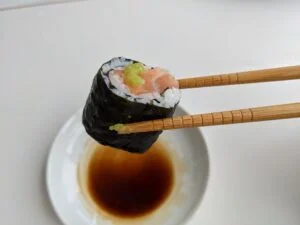 Making Ends Meet
When making sushi rolls, some people cut off the very ends of the rolls and throw it away simply because it does not have a uniform look. In fact, I was actually asked to do so in a restaurant where I worked as a sushi chef many years ago. People feel as though the aesthetic of sushi rolls is ruined by having uneven ends. But personally, I object to throwing away perfectly good food. As you can see below, the end pieces actually look the most tempting, even if they are not evenly cut.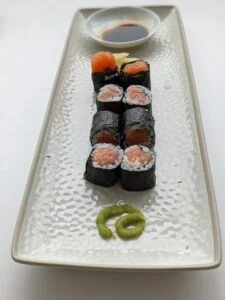 How Should You Plate Your Salmon Maki?
How you plate your maki sushi is one of the most important parts of feeling like you are eating restaurant-quality sushi at home. My favorite sushi plate is this "Gordon Ramsay Maze Grill White Hammer." So elevate your sushi experience now and get this beautiful sushi plate (get it right here if you fancy).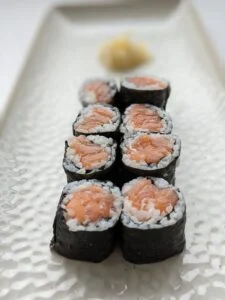 How to Make The Best Sushi Rice
The key to any good sushi is to have properly prepared sushi rice. Good sushi rice should be properly seasoned, light, and somewhat sticky. To make the perfect sushi rice, check out our guide on how to make sushi rice!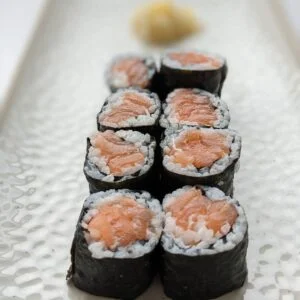 Salmon maki
Hey there sushi fans, welcome back to our show where we explore the wonderful world of sushi! Today, we're going to be making one of my personal favorites, salmon maki rolls. These rolls are perfect for a quick lunch or snack, and they're a great way to enjoy the fresh, delicate flavors of salmon in a convenient and delicious format. So, let's get started!
First things first, let's gather our ingredients. You'll need some fresh salmon, sushi rice, nori seaweed, soy sauce, wasabi, pickled ginger, and of course, your trusty sushi mat. Now, let's cook the rice and slice the salmon into thin strips.
Once your rice is cooked and your salmon is sliced, it's time to start rolling. Place a sheet of nori on your sushi mat, and spread a thin layer of rice over the top, leaving a 1cm border along the bottom edge. Add a few strips of salmon on top of the rice, and roll the nori tightly around the filling using your sushi mat.
Now that you have your rolls, it's time to slice them up and serve. Dip each slice in some soy sauce and wasabi, and enjoy with some pickled ginger on the side.
And there you have it, folks, a simple yet delicious recipe for salmon maki rolls that you can make at home. So, go ahead and give it a try and let us know how it turns out!
Ingredients
4

sheets

nori

½

lb

Raw salmon

Sushi grade
Rice
1⅓

cup

sushi rice

1½

cup

water

1

tbsp

sugar

1

tsp

salt
Instructions
Prepare sushi rice, and season.

Split nori sheet in half and place on the bamboo mat. Make sure the rough side of the nori is facing up.

Wet your hands with 'Vinegar splashed water', and grab a handful of rice. Spread the rice evenly across the nori.

Place a thick strip of sushi grade salmon at the edge of the nori

Roll the sushi, making sure to press thoroughly with every step

Cut the roll in half. Then each half to quarters and eights.

Place on a nice plate, with pickled ginger (gari), wasabi paste, and a small saucer of soy sauce