Why Coronavirus sushi?
This year for Halloween I decided to make something really special. While most of us are still hugely impacted by the dreadful corona-virus, what could possibly make a better Halloween theme than a deep fried corona-virus shaped sushi? Exactly.
To be honest not all of the sushi pieces came out looking quite as intended. For example this one looking quite freaky, seems to me to resemble something of a headless baby duck? In any case I thought it looked quite cool, it was lots of fun to make, and tasted absolutely amazing.
Easy to make
This sushi is made with ingredients you probably already have at home of you made sushi recently.
The only thing missing here is the frying oil that got out of the frame. Guess it had somewhere better to be.
Tempura first
If you have never made your own tempura, it is quite simple. Flour, egg and ice cold sparkling water mixed gently. You only need to make sure not to mix too much, the tempura mixture is supposed to be a bit lumpy.
Let's roll!
Hope you know how to roll sushi. If not sure, check out this guide showing how to make sushi, and this guide showing how to make sushi rice. The illustration below shows the basic steps. Cover half a nori sheet with rice. Flip it. lay down the filling and rolls. Easy peasy.
The roll is filled with: a strip of salmon (the regular kind you get at the supermarket), chives, asparagus and ground mozzarella cheese.
Deep fry
Use chopsticks to gently hold a sushi piece and dip it entirely in the tempura batter. Once covered, throw it quickly (but carefully) into a fryer. Fry until golden-brown on the outside. Put on a paper towel to cool for a couple of minutes.
Serve
If everything went according to plan, the fried tempura should form delicate thorny spikes around the fried sushi. The asparagus is soft, the salmon properly light-pink cooked and the cheese melted. Trust me, it is amazing.
To be fair
Not all the sushi bits came out of exactly the way I wanted. Some had more spikes than others. Some were almost smooth. But, they were all quite delicious. I'm not just saying that. This one below had the most impressive "crown" shape.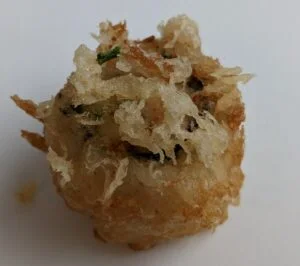 Some like it hot
You can present it any way you like, I'm sure it will be more creative than what I did. However it is important to serve it hot. Nobody likes cold fries, and fried sushi is no exception. Eat it right away.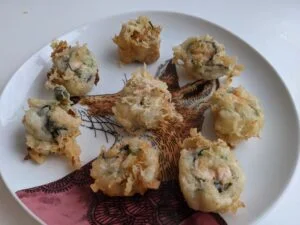 Please comment and share.
Happy Halloween!