Gefilte Sushi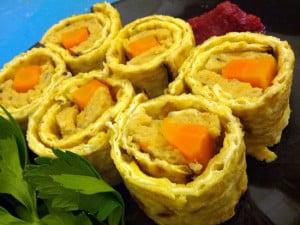 Are you tired of having the same boring Gefilte Fish every Passover Seder? From now on, you don't have to!
Introducing – the Gefilte Sushi. A revolutionary dish that's a combination of east and west, old and new, savoury and.. tradition!
Ingredients
Yield one Gefilte Sushi roll
1 Matzah
1 Egg
2 Gefilte Fish balls
1 Carrot
Maror (optional)
Preparation
Cut the carrot into long and even sticks, about 1cm thick, and boil in a small pot for a few minutes until soft.
Cut the Gefilte Fish balls into 1cm thick slices, and leave it to rest.
Soak the Matza in warm water for about 2 minutes. Put the soaked Matza on a large frying pan, and cover it with the egg from both sides.
Fry the Matza-omlete (a.k.a Matzah brei)and place it on a bamboo rolling mat.
On top of the Maze brei, place two even rows of Gefilte Fish slices.
On top of the Gefilte slices, put one even row of boiled carrot.
Roll, and cut.
Best served with horseradish.